I Make a Living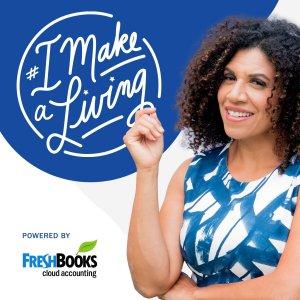 Latest Episodes
July 15, 2019
For our Season Finale, we took on the streets of NYC as we searched for some of the most unique businesses who have "made it". We interview incredible entrepreneurs who found success by thinking outside of the box.
July 01, 2019
Failure- we all fear it and try to avoid it, but inevitably, we will all face it. How do you deal with failure as an entrepreneur? Sam Rosen, a Chicago based entrepreneur shares with us how failure has helped shaped his career and ultimately his successes
June 17, 2019
On this episode, we explore the fascinating and growing world of start-ups. Seth Radman, a serial entrepreneur from Atlanta sits down with us to discuss everything from ideas, solutions, success, failure, funding, to how he writes down every single probl
June 03, 2019
What do you stand for? What is your brand? Today's episode is about discovering who you are as a brand and a business and how you use that brand to leverage social media channels. Our featured guest Beverley Cheng shares her journey on becoming a full-tim
May 20, 2019
How do you take your business from a pipe dream to a fully functioning factory that supports 55 employees? We decided to take our question to the headquarters of PF Candle Co, which is a candle company founded in 2008 by Kristen Pumphrey. She spent years
May 06, 2019
At our last #imakealiving event in Austin, we decided to pick one audience member and match them with a career coach to help them develop their business strategy and growth plan. We recorded the whole conversation for this episode. Today we are talking bu
April 22, 2019
Lisa Canning is an interior designer, business coach, book author, and mother to 7 children. Espree Devora, known as "the Girl who gets it done" is a podcaster, journalist, full-time entrepreneur and globetrotter. How do they accomplish all the things th
April 08, 2019
Today's episode is about one of the most dreaded yet necessary pains every entrepreneur has to endure...tax season. No matter how big or small your business is, taxes are always going to be somewhat complicated, confusing and could create a lot of trouble
March 25, 2019
Welcome to the second episode of our 2-part series in honor of "Women's History Month." On this episode, we explore the role of equity in the female entrepreneurial world. We hear from 2 female business owners who share their experiences and journies to s
March 11, 2019
Welcome to a very special 2-part series in honor of Women's History Month. We take a look at the entrepreneurship world from a female perspective.