Sales Lead Management Association Radio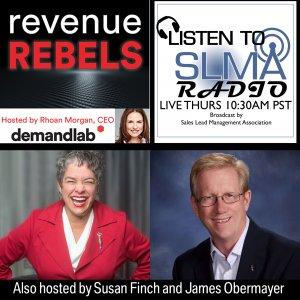 Latest Episodes
August 05, 2019
As the Global Communications Director at inRiver, Erika Goldwater manages the strategy and execution of the demand generation, communications, social media, and content marketing programs. She has extensive experience in several companies and has learned.
August 01, 2019
  This month on Revenue Rebels, Rhoan Morgan welcomes two guests from Lola.com, Jeanne Hopkins, CMO & Ryan Ball, VP of Sales. This episode will provide listeners with tips for improving alignment between two of the most important business functions–mark..
July 23, 2019
The sales pipeline, aka the sales funnel is the long-standing measurement of the past, present and future for a company.  In the not too distant past marketing dumped demand into the beginning (top) of the pipeline and sales took responsibility for the ..
July 17, 2019
Events, trade shows, corporate showcases, and user events have grown dramatically in the last five years. And yet, the need to measure event performance beyond the ego boost of having the event is often evasive. The C-suite wants to measure the ROI for ..
July 09, 2019
This is part 2 of an interview with Kristy DelMuto, VP of Strategic Marketing at LLR Partners. If you missed the first interview, we suggest you listen to it here. This continuation goes into specific tactics. Some of which your team can EASILY help you..
July 07, 2019
Mari Anne Vanella, the host of Outstanding Outbound and SLMA Radio commentator Paul Roberts, explores how to choose and create a successful relationship with an outbound calling company that will give you a 20% return.  They discuss the sins of the indu..
June 25, 2019
JD Prater from Quora shares why you should consider marketing on Quora, and some of his best strategies for driving inexpensive, high-quality leads. Don't miss the chance to break through the clutter on a channel that your competitors haven't found yet...
June 23, 2019
It depends on what report you read, but we know that CRM or sales automation installations are fraught with frustration and failure. It isn't unusual that companies go through 2-3 CRM companies until it has a system that works for everyone. In this inte..
June 19, 2019
  Choose Your Own Way: Why End of Life Conversation Makes Life Itself Easier – for you, your family and your medical team ----more---- In this interview with Larry Wildemuth, Minister, former Chaplain, and Chairman of the Board for Coda Alliance, a nonp..
June 10, 2019
In this interview with Mari Anne Vanella, CEO of the Vanella Group, we discuss how an outside service can be effective in getting an appointment with the right person which leads to a sales pipeline boost.  When asked, salespeople will always, always sa..