Middle Country Public Library Podcast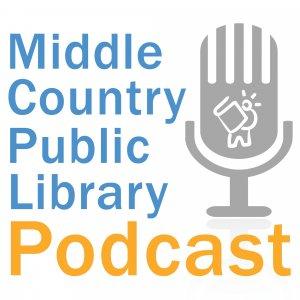 Latest Episodes
April 25, 2019
We discuss the new Star Wars trailer and the series; we have books celebrating the 50th anniversary of the lunar landing; plus Free Comic Book Day is once again coming to the library!
April 18, 2019
Here's the sitch: if you haven't seen the Buffy the Vampire Slayer movie...beware there are spoilers ahead! Nicole has picked this 1992 Action/Fantasy/Comedy flick for us to discuss on our 6th Movie Chat.
April 11, 2019
Nicole has information about this year's Authors Unlimited event; Sara talks Hellboy; Theresa and Jim are here to preview next week's Boomers and Seniors Fair.
April 04, 2019
Sara has the scoop on a great set of drop-in programs coming to the Underground for Teens this spring and summer; Nicole says you should get in on the ground floor of two new podcasts; James is here to let us in on this year's Innovation Celebration.
March 29, 2019
Sara and Nicole interview our newest librarians, Lukas and Liz. PLUS: Laura Powers is here to talk about our newest collection: The Braille Collection.
March 21, 2019
Welcome to Spring 2019! Sara has a preview of upcoming DVD releases; You don't have to pay your way into a good school if you use our fabulous resources: Nicole has the details. PLUS: Stephanie is here for a look at computer programming in our Focus segm.
March 15, 2019
Are you traveling soon? Bring your favorite book, music, movie and more along for the ride. The library has fantastic resources and we chat about them!
March 07, 2019
Nicole has some upcoming teen programs that you might find interesting; Sara has a brief bio as we remember Luke Perry; Lori is here to talk about this year's Middle Country Reads and author event featuring Elizabeth Berg.
February 27, 2019
Spoiler Alert! We discuss the 2018 "Art House" horror flick Mandy, starring Nicolas Cage.
February 21, 2019
Nicole and Gilda have infomation to share about our ESOL and language programs here at MCPL. PLUS: Sara has a preview of our new DVD list!