Middle Country Public Library Podcast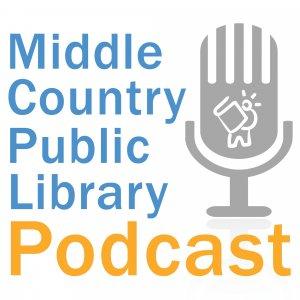 Latest Episodes
June 06, 2019
In this special episode, we discuss the great programs coming to MCPL for Pride Month 2019.
May 30, 2019
Sara and Nicole have some great ideas for your reading list this summer; plus Stephanie is here to give us an update on our 3D printing services.
May 22, 2019
Nicole has some great resources she'd like you all to know during Mental Health Awareness Month; Sara lets us know how she really feels about the Game of Thrones finale; and we chat about the things we are looking forward to this summer.
May 16, 2019
In this special episode, Sara interviews Jonathan Singer, the Director of Curriculum at the Middle Country Central School District about the upcoming STEM Celebration on May 20th at Centereach High School. Plus Deborah Hempe is here to go in depth about .
May 09, 2019
Now that the weather is finally getting warmer, take advantage of our special collections to enhance your outside activities! Sara and Nicole chat about the Game Collection and the Library of Things Collection. Plus we are in the Museum Corner with Debor.
May 02, 2019
Nicole has a great collection of resources to find books that will empower the reader; Sara's learning new things with Universal Class; Elizabeth is here to get us pumped for this year's Strictly Business.
April 25, 2019
We discuss the new Star Wars trailer and the series; we have books celebrating the 50th anniversary of the lunar landing; plus Free Comic Book Day is once again coming to the library!
April 18, 2019
Here's the sitch: if you haven't seen the Buffy the Vampire Slayer movie...beware there are spoilers ahead! Nicole has picked this 1992 Action/Fantasy/Comedy flick for us to discuss on our 6th Movie Chat.
April 11, 2019
Nicole has information about this year's Authors Unlimited event; Sara talks Hellboy; Theresa and Jim are here to preview next week's Boomers and Seniors Fair.
April 04, 2019
Sara has the scoop on a great set of drop-in programs coming to the Underground for Teens this spring and summer; Nicole says you should get in on the ground floor of two new podcasts; James is here to let us in on this year's Innovation Celebration.