The Force Fed Sci-Fi Movie Podcast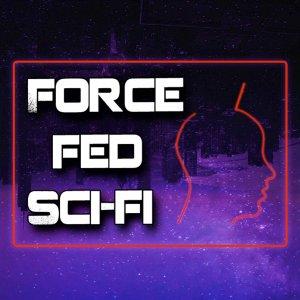 Latest Episodes
August 21, 2019
Join us on this edition of The Force Fed Sci-Fi Movie Podcast as we talk about Kathryn Bigelow's 1995 film Strange Days starring Ralph Fiennes, Angela Bassett, and Tom Sizemore.
August 13, 2019
In this episode we discuss Elysium including Matt Damon and his character of Max, in addition to discussing exoskeletons in the real world. Make sure to listen to our thoughts on the film and more!
August 08, 2019
Join us as we talk about Cloverfield, its cast including TJ Miller, a bit about the film's production, the film's ending, the franchise's potential future, and more!
July 30, 2019
Life finds a way on Force Fed Sci-Fi as we talk about the iconic film Jurassic Park, appreciating Jeff Goldblum's performance and the rest of cast, the effects used in the film, and the film's mark in history.
July 23, 2019
Hop on your spaceship and join us this week as we discuss the film Galaxy Quest starring Tim Allen, Alan Rickman, and Sigourney Weaver! We dive into some of our favorite quotes as well as discover what happened to a possible sequel!
July 22, 2019
Force Fed Sci-Fi fans, we have a problem. Listen to this week's bonus episode as we depart from sci-fi to a dramatized film of Apollo 13 with Ron Howard at the helm and Tom Hanks starring!
July 16, 2019
Join the us this week as we talk about Rian Johnson's film Looper w/ Bruce Willis and Joseph Gordon Levitt. Was it really worth it to have JGL look like Willis? Is there a lack of science behind the time travel in this film? Hold onto your noses!
July 15, 2019
Join us as we discuss the marvelous Marvel Cinematic Universe, its 22 films thus far, what's to come, and also discussing and reviewing Spider-Man: Far From Home.
July 09, 2019
This week, we drive into the passenger seat of I Robot's Audi RSQ with Will Smith at the wheel and appreciate the motion capture Alan Tudyk provides, but was it too many computer graphics?
July 08, 2019
Join us for this bonus episode as we try to put back the pieces together as a result of the collateral damage the film Godzilla: King of the Monsters causes.