Living With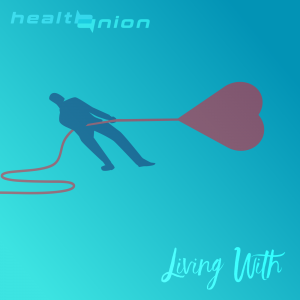 Latest Episodes
April 24, 2019
Shirley Norris was diagnosed with an aggressive bladder cancer in 2016. She shares the symptoms she was experiencing, how she was diagnosed, and how her optimism helped her cope with treatment. 
April 17, 2019
Doug Sparling is living with metastatic prostate cancer and shares his experience of coming to terms with his diagnosis, treatment, and how making his Cancer as Art series has helped him cope.
April 03, 2019
Daniel Malito is an advocate on two of Health Union's communities: RheumatoidArthritis.net and Blood-Cancer.com. He shares his experiences with these two conditions and how living with these significant health challenges has impacted his life in many way
March 20, 2019
Since being diagnosed with metastatic breast cancer (MBC) in 2013, Susan Rahn has been dedicated to advocacy work and shares her experience to raise awareness about MBC and help others who are dealing with the disease.
March 06, 2019
Brooke Pelczynski was diagnosed with multiple sclerosis (MS) in her senior year of college, the summer before she graduated with a degree in illustration. As a visual artist, she shares her experiences of MS through her drawings on MultipleSclerosis.net
February 27, 2019
Jessie Madrigal suffered excruciating symptoms for years before finally receiving a diagnosis of endometriosis in her 30s. Now an advocate for Endometriosis.net, she shares how living with endometriosis has changed her life and how she works to raise awa
February 20, 2019
Jeff Ten Broeck was just an infant when he was diagnosed with atopic dermatitis, commonly known as eczema. In this interview, he talks about the struggles of being a child with a visible skin condition, the challenges of being a teen and navigating datin
February 13, 2019
Wren Vandever has lived with rheumatoid arthritis (RA) for over 30 years. She shares what its like to live with RA, her experiences of dealing with flares, and how shes found ways to keep hope and positivity alive throughout the tough times.
January 30, 2019
Hannah Noonan brings a holistic approach to her profession as a nutritionist, and she can relate to her clients personally as she has experienced irritable bowel syndrome (IBS).
January 23, 2019
After being diagnosed with Parkinsons disease at age 23, Karl and his wife Angela talk about how laughter and the complementary approach of Reiki have helped them both in dealing with the challenges of living with PD.