Theatre Geeks -- Dave Dufour, John Shoup, Marcia Fulmer
Midwest
Description: Community Theatre and the Performing Arts
Now Playing
We need your vote in the Podcast Awards.

You can vote once a day, every day until November 15, so show us your support. VOTE HERE. Theatre Geeks is in the Cultural/Arts category.

EVERY VOTE COUNTS.

If you're drawing a blank in some of the other podcast categories, Dave recommends you consider some of the great shows listed below. (Listen to the podcast for more information on these.)

Dave's Picks for The Podcast Awards

The Ramen Noodle (Comedy) Scam School (Best Video Podcast) Once (entertainment podcast) Authentic Life Radio (also entertainment — yes, you can only pick one, so you'll . . . → Read More:

Podcast Awards — Vote for us and for Dave's favorites too!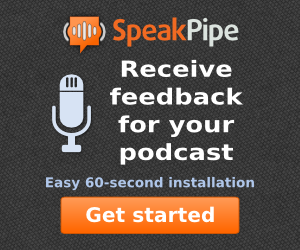 Subscribe & Follow
Average Rating
Categories