Gary Leland
Dallas, Texas
Description: Interviews, product reviews, and training drills from the world of fastpitch softball
Now Playing
Subscribe:

This week I bring you the 4th and final part of a pitching clinic with Bill Hillhouse from Softball Con.

Click to receive new episodes of the Fastpitch TV Show by email

Fastpitch TV is sponsored by:

WorthSports.com – Worth's fastpitch gear is specifically designed for the female athlete to take your play to the next level. Worth's Made in USA patented 454 LEGIT technology extends the sweetspot two inches in BOTH directions, giving the player the largest sweetspot in the industry.

http://EliteFastpitch.com one of the largest, and most successful pitching schools in the USA, training Windmill Pitchers from eight and up.

http://SoftballJunk.com The best place online to buy softball equipment, and the original fastpitch softball store on the Internet.

http://Markwort.com "Sporting Goods for your sporting life"

http://SportsDecorating.com "Where the true sports fan decorates their home"


Feel free to email comments to Gary@Fastpitch.TV, or use our call in line 209-Softbal.


Fastpitch TV Resources:

Twitter.com/FastpitchTV Follow The Fastpitch TV Show on Twitter.

Facebook.com/FastpitchTV Become a fan of the Fastpitch TV Show on Facebook.

App.Fastpitch.TV Find our iPhone, and iPad apps on iTunes.

Sub.Fastpitch.TV Have future episodes sent to you by Email.

Currents.Fastpitch.TV Follow us on your iPhone, iPad, or Android phone with the free Google Currents App.

Donate.Fastpitch.TV If you like the show consider helping by donating.

Gplus.Fastpitch.TV Find us on Google Plus.

fastpitch.tv/forum/ Join in on the conversation at our forum.

YouTube.com/Fastpitch.TV You can subscribe to our show on You Tube.



This content is provided with a Creative Commons Share-Alike License. Feel free to use this content, so long as you give credit to Gary Leland, of Fastpitch.TV and link to http://Fastpitch.TV



Here is the embed code for this episode




Gary leland is a new media producer of fastpitch softball. information. For advertising information send him an email to Gary@Fastpitch.TV, or visit his personal website site at http://GaryLeland.com for more information on Gary.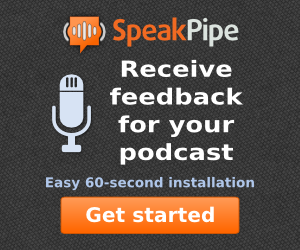 Subscribe & Follow
Average Rating
Categories