A Complete Line of Advertising Services for Your Podcast
We offer a complete line of services free and without obligation through advertising partnerships with shows on the network such as yours. Our sales staff works hard every day to find exceptional sponsors for your shows.
To match unique advertisers with your unique content, it is critical that we get to know you, your show and your audience.
Our team has developed three free services for your use in your quest to find a sponsor and get to know your audience.
Free Media Statistics
Free Audience Survey
Advertising Survey
Free Audience Survey
Getting to know your audience starts with a survey. In only 60 seconds, we can collect the key information needed to know about your audience to make that perfect advertiser match.
This free web-based survey for your podcast has been developed by the team at RawVoice, the parent company of Blubrry.com. The team understands what you need to know about your audience in order to grow and attract sponsors.
The audience survey includes:
A unique link or graphic that you can place on your website or in a blog post.
The top 10 demographic questions in 60 seconds -- we don't waste your listeners' time.
Graphics to promote the survey via your website and podcast.
Give the survey a spin now and see if we live up to our 60-second promise! Click the Audience Survey banner on the right column.
Media Statistics
By providing you with media statistics, we validate your show's stats to any prospective advertiser you ask us to. Third-party validation of your media statistics is key to building credibility.
Our measurement service is free and allows us to combine the data collected in the audience survey with your media statistics, to allow our sales staff to best determine which advertiser is the best fit for your show.
Media statistics include:
Summary View (overall and current month totals including latest 10 episodes)
Overall Reports
Episode Specific Reports
Monthly Reporting
Unique IP Address Reporting
Platform Tracking (Windows, Mac, Linux)
Client Tracking (iTunes, Zune, Nokia, etc.)
Referrer Tracking
PDF Exportable Reports
Daily or Weekly Email Reporting
Export to Excel
Month-to-Month Trending
Read-only Guest Accounts
Plus a whole lot more. To see a full list of Media Statistics features click here.
Advertising Survey
The advertising survey is where we learn about you, your show, your publishing schedule and how you like to get paid. This is where you provide us with the specifics of your show so that when we are sitting in front of a prospective advertiser we can talk intelligently about your show. After all, 90 percent of the success of any ad campaign is you and your show's unique content.
Our goal with all of our partner shows is to build longterm relationships with each of you. We try to give each of you the star treatment and having an up-to-date advertising survey helps us stay dialed into what's happening with your show.
The best deal in new media
We never ask you to sign a partner contract, the only time you sign on the bottom line is when you agree to perform advertising in your show. You always have the option of declining an advertising deal that you feel is not the right fit. You continue to be able to negotiate deals on your own and, in fact, we encourage it. We want to see you succeed.
If you have questions feel free to reach out to the team, via the forums or the contact form on the website.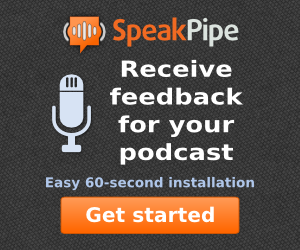 We provide you with a variety of banners to choose from to put on your site or in your blog posts.
You use your own graphic as well and link it to your custom survey page.
Find all the banners by logging into Blubrry Account Manager or follow this link.
URL's work as well Survey Click Me.


Great Tools for Great Shows!